Buick Regal red
This is an upscale car in the mid-sized range that has been on the streets since 1973 in various modifications. S production has been in full swing since 2011 after a brief discontinuation. The Regal is a prime entry level sedan into the market that offers a decent value on the road. It gives you a revised trim level structure and a slightly improved appearance. A Buick Regal makes for a major up-scaling on the interlink function that is standard in Buick models.
Features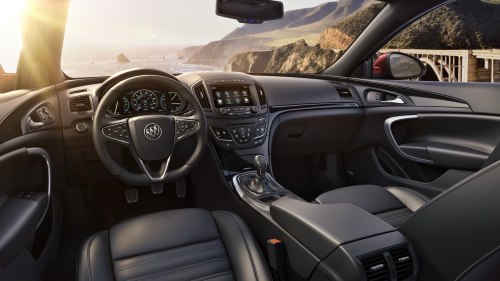 This car has never lost its long laundry list of standard convenient features and the competitive pricing that puts it within reach of most sedan lovers. This Buick regal packs a turbo-4's fuel economy with 259 horsepower in its 2.0-litre four cylinder pumps. Its touchscreen is slightly larger than the Encore's, at 8-inches coupled with an Android and Apple integration and an impressive interface.
The Buick Regal attracts you with its polished looks and affordable value that makes it incomparable to most of its five alternatives. It has the Buick signature 18-inch alloy, cruise control, soft leather upholstery, heated seats and steering wheel. Its infotainment consists of a satellite radio, seven speaker system and a CD player and two USB ports. The ISL has the legendary twin exhaust outlets as well as rear spoilers. The premium II version offers you a keyless entry and ignition, a navigation system, a 110 volt power outlet, a nine speaker audio system, a xenon headlights, rear-seat side airbags and rear parking sensors. The Regal GS boasts a standard 19-inch rim with the option for 20-inch front and rear rims. It is the most agile of the Buicks with adjustable drive modes, sport suspensions, unique pedals, a three spoke steering wheel, a large gauge cluster info display and adaptive dampers.
Safety
Buick Regal side view
Like their smaller sister, the Buick Encore, Buick Regals have lane departure warning, collision alerts, blind spots monitors and drivers memory settings. You can also opt for 18-inch chrome rims, chic interior lighting and a sunroof. Its 2.4 litre four cylinder engine pushes horsepower's of between 172 and 282 feet of torque. The front-wheel drive is a given while the all-wheel is always optional. Its acceleration falls within the standard acceleration for most of the cars in its class. It has a full length side curtain airbag and anti-lock disk brakes. The Buick Regal packs an automatic crash notification, a remote door unlock and a stolen vehicle locator.
Overview
To cap it all off, it has a four-star rating for frontal impact safety and a five-star rating for side impact safety. The interior is luxuriant with a dash of showy features including a sleek gauge display, a large touchscreen with sharp graphics and displays. A fantastic car for even the shrewdest driver.